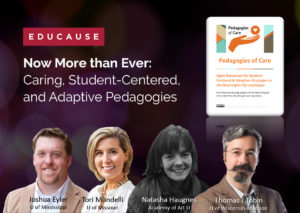 The recent EDUCAUSE webinar, "Now More than Ever: Caring, Student-Centered, and Adaptive Pedagogies," that we  (Joshua Eyler, Natasha Haugnes, Thomas Tobin, and myself) did on September 22, 2020, was high-energy. We delivered more than a few feasible, and fantastic teaching approaches. Almost 150 participants from around the country and the world joined the fun. 
What were my favorite parts?
Josh's socially-distanced beach birthday party photo

 

Natasha's inspired drawings of students in the learning process

 
Tom's "rock-the-bells" DJ skills

 

My multi-player online synchronous game play
This was not your grandfather's Buick of a webinar. We kept it light and moved swiftly covering topics such as: 
how to increase your social presence for more effective online learning

 

how to use alternative grading schemas to alleviate stress and boost learning

 
how to infuse play into learning activities for increased engagement and deeper learning

 

how to lower access barriers for more inclusive environments

 
Multi-player Online Play 
Let me tell you more about the online collaborative play, because it really was a hit. One participant's comment when asked what she would take away from the session was, to "… bust open what 'play' means in my course activities." That's the spirit!  
Here's some background. My colleague, Dr. Joe Bisz, who has been designing and running games designed in PowerPoint for his in-person classes for about a decade, has taught me so much about translating regular board games to the screen for large groups of people to play! When COVID-19 disrupted everyone's worlds, Joe and I began experimenting with Google Slides for online synchronous game possibilities. We conceived of a way to enjoy multi-player crossword puzzles in Google Slides. (Watch our video to see a few examples.) These puzzles work across the disciplines for students to self-test their knowledge, exercise associative thinking, and boost each other's understanding through peer discussion on potential answers. 
Back to the webinar. First, I framed up what game mechanics are and how they can be used to boost student engagement and deepen learning for students. Next, I invited everyone to play-test to the crossword puzzle I designed with great input from Tom. 
The puzzle has a Self-Care theme running through it (because Zoom room fatigue is real, and so is chronic stress). We wanted to structure reflection on practices to center care for ourselves, and our colleagues. Thus, all the answers to this puzzle are ways to practice self-care. To get folks ready, I explained some of the complex mechanics at play in crossword puzzles. We explored what makes them fun, and how we human's love a challenge pitched right at the sweet spot that makes us stretch. Next, I invited them to a 60-second speed round, against the clock (not one another), and linked them to the puzzle.  
It was exhilarating to see them work. "Anonymous Otter" completed 4 Down, simultaneously, "Anonymous Lizard" got 8 Across. In a blaze of typing fury, they completed the entire 17 prompt puzzle in just 60 seconds. Only one answer needed correcting. Immediately, feedback in the chat flowed. Here are some snippets and my responses. 
Q&A
"What a great activity! How hard was it to build?" 
"What is the software used to create the crossword puzzle?" 
Thanks! It's not difficult if you use a free crossword generator like crosswordlabs.com. Then, hop over to Dr. Joe Bisz's free download puzzle template. Patience and precision is needed as you arrange the boxes to duplicate the configuration that your crossword generator produced. Of course, you'll need your curriculum handy and some creative inspiration to come up with your theme and prompts. Tom Tobin shared this helpful New York Times article for how to optimize your crossword prompts.  
"Crowdsourcing in action!" 
Yes, this I think seeing all the players collaboratively buzzing at the same time is very powerful. One feels connected, a part of the team – and the team is pumping. 
"I've already shared the crossword puzzle idea with my co-workers."
"This is great for language learning!"
"You can have large group activities in a sync session that can be fun!"
"Great activity for the physically distanced classroom." 
I love hearing these immediate application cases and enthusiasm for online collaborative crossword puzzles.
"Have you ever had a game go wrong? Where a student gets their feelings hurt, or things get unnecessarily competitive?"  
Games can be more or less successful for many reasons. The way we try to mitigate problems is to play-test the activity or game outside of the classroom in faculty learning communities and/or with friends before unleashing it on students. While the others play-test your creation, you look for trouble-spots, including potential places where competition could become fierce. Then, you debrief with your play-testers about their experiences in an open forum, as well as with private written feedback. Then, you grapple with everything you learn, and iterate. The game you bring into the learning environment for students is better than the prototype. The kinks have been worked out.  
My Reflective Debrief
After I reflected on this multi-player experience, there are a few items that I will change: 
Abstain from playing background music to help players focus.

 
Move the players into different instances of the puzzle, so that rather than 150 people playing one puzzle, we could have 15 teams of ten. In this way, more people would get to enter answers (i.e. more active engagement, rather than just watching another person type in an answer). 

 

With multiple teams, consider still competing against the clock, and/or we could give them rankings according to the number of correct answers obtained in the time span.

 

After the play, begin a short discussion by asking players to count how many of these self-care practices represented in the puzzle are ones that they engage in on a weekly or monthly basis. Have them consider one from the list that they schedule for themselves, then and there.

 
One great piece of constructive feedback caught my attention, deeply, and I am still wrestling with it:
"That was super fun but the clunky interface of typing one box at a time a little stressful with the time component."
Agreed. Where there is a will there is a way to improve on this letter entry process. I might hit up some of my instructional designer friends to join me in a brainstorming session. Interested in joining? Please get in touch.
"Bust It Open"
It was a blast to run this playful activity with colleagues from across so many time zones. As you consider designing similar experiences using the templates, please consider giving them a Creative Commons license and sharing them back with Dr. Joe Bisz and me. Wouldn't it be great to find and use these kinds of playful collaborative puzzles in every discipline? By uploading your creation to merlot.org, so many others stand to benefit. Open Educational Resources are the way; I have spoken.  
 Thank you to EDUCAUSE's Kathe Pelletier for inviting us,
and to my co-panelists who are stellar colleagues and collaborators.