Whether your community thrives with hands-on intensive workshops or moderately interactive presentations, you can engage with Tori to craft a customized experience that meets your needs.
Topics:
Game-Based Learning: The ALLURE Method of Design

Leveraging Research-Based Principles for Collaborative Learning

A Trio of Evidence-Based Teaching and Learning Strategies

Assessment Principles and Practices for Faculty and Student Success

Teacher as Benevolent Provocateur

Role-Playing to Engage Empathy & Varied Perspectives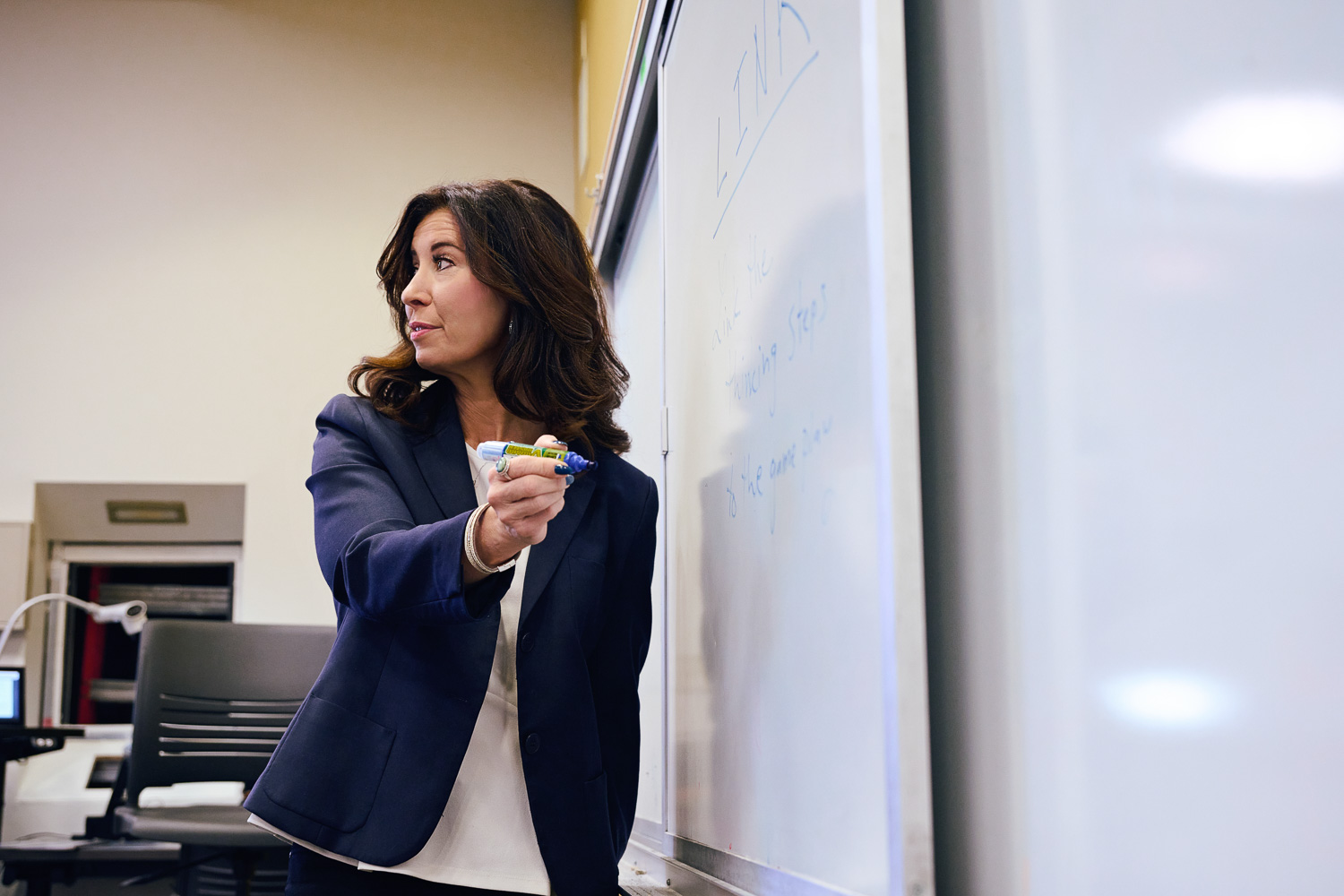 Tori Mondelli's passionate commitment to student success through engaging teaching practices shines through in everything she says and does. Tori's enthusiastic focus on pedagogically purposeful, playful active learning is both unique and impactful. Faculty audiences are sure to glean individualized and practical strategies to energize their teaching practice and revitalize student learning and engagement."
– Flower Darby Author of Small Teaching Online: Applying Learning Science in Online Classes
Assistant Dean of Online and Innovative Pedagogies at Northern Arizona University
Victoria Mondelli is a five-star educational development dynamo! She brings expertise, evidence-based practices, and boundless energy to every project and event. Tori is that rare breed of scholarly professional who is super-smart AND possesses exemplary interpersonal and leadership skills. She is a high-energy facilitator and presenter who offers truly productive, meaningful faculty development—and she always helps everyone have some fun along the way."
– Jessamyn Neuhaus, Ph.D. Author of Geeky Pedagogy: A Guide for Intellectuals, Introverts, and Nerds Who Want to Be Effective Teachers
Professor of U.S. History & Popular Culture
Interim Director, Center for Teaching Excellence
SUNY Plattsburgh
Tori Mondelli has developed exceptional strategies for implementing game-based learning in a way that engages students cognitively through pedagogically sound instructional practices. Her approach allows students to have compelling and meaningful experiences while keeping learning goals front and center."
– Timothy Schaffer, Ph.D. Senior Educational Technologist
New York University
Over the years of seeing Tori in action, I can say without a doubt that she is a consummate professional with a methodical approach to faculty development, but (and this is the hard part) she makes it fun, active, and relevant."
– Matt LewisInstructional Design & Multimedia Manager
School of Professional Studies
City University of New York
Watching participants in Tori's "Allure of Play" workshop interact both with her and with each other was amazing! You could tell everyone came to deeply understand the great power of implementing game-based learning into their curricula through a very engaging first-hand experience."
– Dr. Danna Wren
Senior Director, Academic Technologies
University of Missouri System
Dr. Mondelli helped me develop a dynamic playful activity to support the inclusion of all student voices in my social work courses. She helped me to consider pre- and post-testing of this idea and fine-tune the concept to ensure comprehensive student engagement. Dr. Mondelli's desire to support and encourage others is both uplifting and inspirational. She reminded me of the fun and joy that teaching brings! "
– KATHARINE DILL, MSW, LMSW, PhD.
Associate Professor
Marist College
POD Network Institute
"Directors as Catalysts: Transformative Pathways for Center and Professional Growth."
Temple University Annual Faculty Conference on Teaching Excellence
"Fostering Inclusion with Playful Instructional Design."
EDUCAUSE Annual Conference, Virtual Simul-live Session
"Games & Learning—Pandemic Edition."
EDUCAUSE Webinar
"Now More than Ever: Caring, Student-Centered, and Adaptive Pedagogies."
AAC&U Annual Meeting, Washington D.C.
"Promoting Adjunct Excellence with the New Student Majority."
POD Network Annual Meeting, Pittsburgh, PA
"Design Moves: Best Practices for Learning Games and Online Teaching."
Focus on Teaching and Technology Conference, St. Louis, MO
"Next Generation Curriculum Mapping: Making Teaching and Learning Visible."
Wakonse Conference on College Teaching, Shelby, MI
"What's Your Game Plan?!"
EDUCAUSE Learning Initiative, Anaheim, CA
"The ALLURE of Play: A Learning Game Design Workshop."
CUNY Games Conference 4.0., City University of New York, The Graduate Center, New York, NY
"The ALLURE of Play: A Learning Game Design Workshop for Educators."
EDUCAUSE Learning Initiative Annual Conference, New Orleans, LA
"Leading Academic Transformation, Roundtable Discussion."
Pace University Inaugural Retention Conference – Going the Extra Mile
"Maximizing Teaching Effectiveness and Student Learning."
Scholarship of Teaching and Learning Symposium, Mount Royal University, Banff, Canada
"Decoding the Disciplines Applied to Game-Based Learning."
Enhancing Teaching Effectiveness Conference, Nyack College, NY
"Engaging Students to Optimize the Learning Environment."
Faculty Institute, Misericordia University, Dallas, PA
"Evidence-based Instructional Practices."
AAC&U Conference on Diversity, Learning, and Student Success in Philadelphia, PA
"Engaging Students to Optimize the Learning Environment."
CUNY Games Festival, New York, NY
"There and Back Again with Skill and Drill Games: When to Use Them or Look Elsewhere."
EDUCAUSE LEARNING INITIATIVE (ELI), Anaheim, CA
"Searching for 'Free and Better':  Evaluating the Efficacy of Open Educational Resources."
CUNY Games Festival, New York, NY
"Decoding the Disciplines with Game-Based Learning."
SoTL Commons, Georgia Southern University, Savannah, GA
"Decoding the Disciplines with Game-Based Learning."
Connect with Tori
Let's imagine and create a customized experience for your campus.